Top Ten Massage Chairs: Click on Read More for Product Features, Specifications, Price and Where to Try&Buy
Review: This chair is the closest you can get to a human touch massage chair. The soft leather finish, choice of five colours, and sleek modern design make it the most aesthtically pleasing chair. This is a fully reclining massage chair that feels as if it encloses you into your own massage world, with inbuilt speakers that complete the full sensory experience. A combination of acupressure, kneading, rolling and vibration massage means that this chair never gets boring.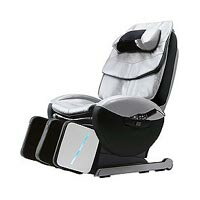 2) Inada YumeRobo
 Review: Unique combination of a massage chair and a rocking chair. A soothing and gentle rocking function rocks you back and forth. This interesting concept really adds to the relaxation of the massage. In a dark room there is another special treat-there are LED mood lighting along the sides of the footrest! This massage chair comes in three colour combinations; white, black and red. The massage component of the chair is a combination of 4 ball massage rollers, rotary massage and stretch massage. A unique chair that is worth trying.
3) Sasaki 7 Series

 Review:

This chair is rather a lot of fun; with a music synchronized massage system you can play your favourite songs and the chair will synchronize the massage to the music. Just don't play anything too hectic! This clever chair comes with an infrared body detection system that detects shoulder position and helps to personalize your massage. The armrests are adjustable which means that it is suitable for those who are slightly larger and need more room.
4) Sanyo DR8700
Review: 
With technology that measures your heart rate and the level of stiffness in your muscles it feels as though you are having more than just a massage-a medical check up too! There is an automatic neutral body position setting that will equally spread out your body weight in the chair-this feels strangely like floating. A stretch massage setting adds an extra bonus to this lovely massage chair.
5) OSIM uAstro 
Review:
Zero gravity chair cradles you in a stress free neutral position with the option to recline even further. There are fifty airbags! This means that on the air pressure massage setting is divine, not an ounce of tension will be left in your body after this. The chair is a family chair with settings ranging from senior to junior. Favourite gadget of this chair is the "four hand" deluxe massage-it really does feel like there are four hands massaging you neck and back simultaneously.
6) Inada Sogno Dreamwave
Review:
There are not many chairs where you will find an air acupressure system around the neck-you will find it with this chair and if you suffer from a stiff neck then air bags are just wonderful. The chair is available in beige and black. There is an interesting post-massage swing function that grips your pelvis and swings your body in a figure of eight. The chair does take up quite a lot of space but if you have it then this chair is definitely worth considering.
7) Inada Cube
Review:
The most compact massage chair in the world. If you are looking for something with a smaller price tag and you are short of space then this is just what you are looking for. The chair folds into a cube and can be simply wheeled away into a cupboard! The leg and foot massage is a combination of air pressure bags, shiatsu and reflexology pads. The chair has a bum and lower back massage which is fairly gentle and soothing. For it's price it is remarkable value.